Swine Research
Shows Increased Growth Rate
Natural zeolite feed additives have been proven to benefit swine health and growth in numerous studies.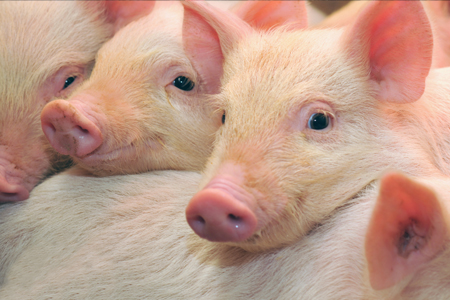 Effect of Prenatal Natural Zeolite Diet on Newborn Pigs
The vitalizing effects of a natural zeolite diet can be transferred from mother to offspring. This was shown in experiments at the Ichikawa Livestock Experiment Station (see table below).
Clino was fed each day to pregnant sows and this program continued throughout the 35-day weaning period of their offspring. These piglets showed substantial increase in growth rate and suffered no attacks of diarrhea, while the control groups were severely afflicted with scours which greatly inhibited their normal growth (Buto and Takehashi, 1967).
Tests carried out at Ichikawa Livestock Experiment Station, Japan. Four hundred grams of clinoptilolite given to sows in experimental group per day and continued until end of weaning period (Buto and Takenashi, 1967).
Tests carried out at Ichikawa Livestock Experiment Station, Japan. Four hundred grams of clinoptilolite given to sows in experimental group per day and continued until end of weaning period (Buto and Takenashi, 1967). * Weight-gain of experimental animals divided by weight-gain of control animals X 100.


Effect of Prenatal Natural Zeolite Diet on Newborn Pigs

 SPECIES

Group

Average Weight (kg)

* WEIGHT GAIN

No. of Pigs

Group

Newborn

21 days

35 days

IMPROVEMENT

6

Experimental

1.25

4.3

7.83

63%

10

Control

1.10

4.2

4.81

6

Experimental

1.20

4.7

8.68

86%

10

Control

1.10

4.0

4.67

-

© ZEO, Inc. Swine Research Trial with Zar-Min Feed Additive
Kondo and Wagai (1968). Tests carried out using 5% clinoptilolite in rations of experimental groups.
aExcluded zeolite.
bFeed efficiency value = weight gain/feed intake.
cEight Yorkshire pigs.
dTwenty Yorkshire pigs


Caloric Efficiency of Zeolite Supplements in Swine Feeding


GROUP

Age of Pigs
(days)

Average Weight
(kg)

Average
Weight
Gain

Average
Feed
Intake

Averageb
F.E.V.

ZEOLITE

Start

Finish

Start

Finish

(kg)

(kg)

(kg)

IMPROVEMENT

Experimentalc

60

120

15.43

44.43

29.00

85.0

.341

35%

Controlc

60

120

14.85

33.78

22.93

90.6

.253

Experimentald

99

178

30.73

85.30

54.57

167.6

.326

6%

Controld

10

Control

1.10

4.0

4.67

4.7

8.68

-

© ZEO, Inc. Swine Research Trial with Zar-Min Feed Additive

Improved Gain and Feed Efficiency with
Zar-Min Natural Zeolite Feed Additive




Gain (lbs)




Feed (lbs)




Feed/Gain

 

Treatment

162

578

3.56

Control

159

589

3.70

 

Difference

3

–9

–0.14

 © ZEO, Inc. Swine Research Trial with Zar-Min Feed Additive
Treatment
Added 10 kgs. (20 lbs.) Zar-Min per tonne (ton) of feed
Basal Ration and Test Conditions
47 pound average start weight
Starter 20% • Protein • 2,920 Kcal/lb.
Grower 16% • Protein • 2,984 Kcal/lb.
4 Replications
Males and females