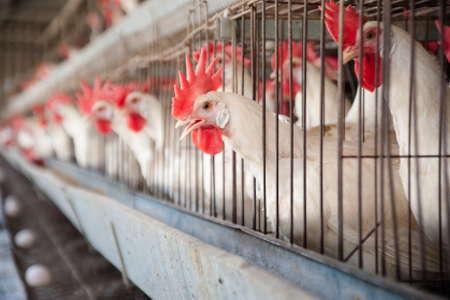 Mycotoxins
An anticaking agent, ZAR-MIN Natural Zeolite Feed Additive can be one of the tools in an effective mycotoxin management program. Aflatoxin account for a large portion of the problems associated with mycotoxins and is one of the most toxic mycotoxins.
In broiler research sponsored by ZEO, Inc., the negative effects of 115 ppb aflatoxins from naturally contaminated corn were not observed when ZAR-MIN Natural Zeolite Feed Additive at a 1% level was added to the ration. The 1% ZAR-MIN Feed Additive treatment with 115 ppb aflatoxin gave similar results to the tests containing no ZAR-MIN and that contained corn that was not aflatoxin contaminated.

ZAR-MIN Natural Zeolite Feed Additive
ZEO Broiler Research
0 to 46 Days

USAGE

Aflatoxin (ppb)

Body Weight (lbs)

Feed Conversion

115

3.92

1.91A

115

3.87

1.98B

115

3.88

1.93AB

© ZEO, Inc. ZAR-MIN Organic Natural Zeolite Feed Additive

ZAR-MIN Natural Zeolite Feed Additive
ZEO Broiler Research
0 to 21 Days

USAGE

Aflatoxin (ppb)

Body Weight (lbs)

Feed Conversion

115

1.29AB

1.43A

115

1.27A

1.53B

115

1.30B

1.44AB

© ZEO, Inc. ZAR-MIN Organic Natural Zeolite Feed Additive
Mycotoxins are secondary toxic metabolites produced by fungi or molds that grow on feedstuffs. Feedstuffs contaminated with minute quantities of mycotoxins can be highly toxic to both humans and animals. Plants under stress especially in hot humid areas are more subject to fungi growth especially fungi that produce highly toxic aflatoxin.
Over 50 mycotoxins that have been identified and characterized, aflatoxin is the most ubiquitous and is the cause of about half of the problems associated with mycotoxins. A single species of fungi can produce more than one type of mycotoxin, and the same mycotoxin can be produced by more than one mold species. More than one fungi species producing mycotoxins may be living on a feedstuff at a given time. The highly potent mycotoxin carcinogen, aflatoxin is produced by the Aspergilius species of fungi; Aspergillius also produces the ocratoxin and citrinin mycotoxins. Penicillium produces ocratoxin. Fusarium produces the fumonisins, trichothecenes, and zearalenone. Sclerotia produces the ergot alkaloids such as ergovalent. There are many peer reviewed publications on the detrimental effects of mycotoxins; a review by Yiannikouris and Jouany has a simple table that summarizes the source and structure of many of the mycotoxins (A. Yiannikouris, J. Jouany, "Mycotoxins in feeds and their fate in animals: a review," Animal Research 51:81–99).
Dhanasekaran et al review aflatoxins and their toxic effect in humans and animals. Of the many types of aflatoxin structures, aflatoxin B1 structure is the most toxic and is highly toxic at extremely low levels. The manifestation of aflatoxin poisoning, aflatoxicosis, are liver dysfunction, reduced immunity, lower production efficiency. Young animals are more susceptible than mature animals. Acute toxicity varies widely between species.1
Dogs and cats are especially susceptible to the toxic effects of aflatoxin B1 in feed (> 60 μg/kg of feed) with an LD50 of 0.5 to 1.5 mg/kg of body weight for dogs and 0.3 to 0.6 mg/kg for cats. There is a dose response correlation with survival time and intensity of histologic changes.2
With the well documented mycotoxin binding effect of natural zeolites, a major concern was the potential to absorption and binding of essential nutrients such as vitamins and minerals. Papaioannou et al studied the long term effect of natural zeolite with and without the antibacterial chlortetracycline upon the concentrations of certain vitamins (vitamin A and vitamin E) and minerals (K, Na, P, Ca, Mg, Cu and Zn) in blood and body tissues of the sow. They concluded that Natural zeolite supplementation with or without tetracycline had no significant effect on vitamins and minerals uptake and their distribution in the body, because there was no alteration in their blood serum and liver/kidney of vitamins and minerals.3

1. (D. Dhanasekaran, S. Shanmugapriya, N. Thajuddin, A. Panneerselvam. (2011). Aflatoxins and Aflatoxicosis in Human and Animals. Aflatoxins-Biochemistry and Molecular Biology, 221-254.
2. (K. Stenske, J. Smith, S. Newman, L. Newman, C. Kirk, Aflatoxicosis in dogs and dealing with suspected contaminated commercial foods. Journal of the American Veterinary Medical Association, B: 1686-1691.)
3. (D. Papaioannou, S. Kyryakis, A. Papasteriadis, N. Roumbies, A. Yannakopoulos, C. Alexopoulos, Effect of in-feed inclusion of a natural zeolite (clinoptilolite) on certain vitamin, macro and trace element concentrations in the blood, liver and kidney tissues of sows, Research in Veterinary Science 2002, 72: 61-68.)